Archive for the 'China's Cultural Relics' Category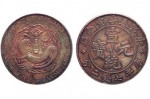 George Lim (pinyin: Lin-Qing-He) began his coin and banknote collection 30 years ago with a single note, the first 10,000 Singapore dollar bill he received. 'As soon as I made that amount, I saved it to remember it,' says Mr. Lim, a Singaporean real-estate developer, whose collection today includes more than 100 rare coins and banknotes.
Mr. Lim plans to auction 68 coins and notes from his collection in Hong Kong on Aug. 22. He hopes to cash in on growing interest in collectibles from mainland Chinese buyers who have already pushed up the price of rare stamps, wines and art in recent months.
The lots in the Hong Kong auction will focus on Southeast Asian and Chinese coins and banknotes. One item of note is a rare Yunnan Spring dollar dated 1910 with an unusual spelling mistake embossed on the coin (pinyin: Xuan-Tong-Yuan-Bao). Mr. Lim spoke with Angie Wong in Hong Kong about collecting etiquette and how to safeguard yourself from picking up a fake. The following interview has been edited.
WSJ: What do you look for when starting a collection?
Mr. Lim: Rarity and quality. Quality is basically the condition of the coin, who commissioned the coin and when it was produced. But if the coin is rare, then the wear and tear isn't as important, especially if only one or two survives.
WSJ: Do you think it is good to hoard a collection or sell it?
Mr. Lim: This is only a hobby. There are collectors who keep all the good stuff and leave nothing for others to collect. I think if you are collecting, you must release something from time to time [so other collectors can enjoy them]. I wanted to collect China silver coins, but all the top China silver coins are going into one person's hands. So I had to go for Chinese gold coins instead.
WSJ: How do you know when to sell?
Mr. Lim: Let the market decide the price. Watch the auctions to see what is selling. Also know that auctions goes up and down with the economy.
WSJ: What tips do you have for someone who wants to start collecting?
Mr. Lim: Newcomers, especially those interested in Chinese coin collecting, need a base knowledge. Read lots of books on the topic. Get to know what each coin is about, and the story behind it. Talk to dealers as well.
WSJ: What about forgeries?
Mr. Lim: It is very common for forgeries in China, especially if the coin is worth a lot. The best thing to do is safeguarding yourself by buying coins approved by a recognized third-party grading service.
Angie Wong
As a part of the gathered performance activity of Chinese ethnic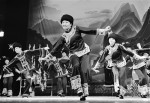 intangible cultural heritage items, the reporting performance themed with "Hunan Flavor" was conducted at the Hunan Concert Hall on the evening of March 13. It is reported that Hunan's 16 ethnic intangible cultural heritage items will be performed in the Beijing Tianqiao Theater on 17 and 18 this month.
Sponsored by the Ministry of Culture and the Ethnic and Religious Affairs Commission, this performance activity was held in Beijing on February 17 and will last until March 30. The ethnic folk artists from different provinces, cities, and autonomous regions across the country will present nine performances for the local audience. Among them, special performances will be made by Hunan, Qinghai, Sichuan and Guizhou provinces, and Tibet, Inner Mongolia and Guangxi Zhuang autonomous regions.
Nearly 200 Hunan-based actors from Xiangxi, Huaihua, Zhangjiajie, Shaoyang, and Yongzhou attended the performance, including Tian Longxin and Dai Bisheng, and Chen Shida, representative heirs of the state-level and provincial-level intangible cultural heritage respectively. The performance displays the colorful folk culture of Hunan's ethnic minorities with their dances, instrumental music, folk songs, clothing, and so on.
Translator: Lv Xuefen
The set of bells, set of chimes and other instruments excavated from the tomb of Zeng Houyi, who was a Warring States duke in Suixian County (now Suizhou City in Hubei Province), are the largest-scale ancient percussion instruments found so far. The musical instruments were discovered in the central chamber, which was the biggest, and the second biggest, the eastern chamber.
Among the musical instruments found was a bell used for tuning other instruments, a ten-stringed plucked instrument, five Se (a zither-like instrument) with 25 strings each, two Yu (or Sheng) and one hanging drum. The other instruments found were three Xiao (a reed instrument consisting of a bundle of 13 flutes, each of different thickness), two Chi (a flute with a closed tube, blown transversely, with the air exit on top, and the five finger holes open "forward"– toward the player. The method of playing the Chi, by opening and closing holes, bespeaks a close relationship with the ocarina), seven 35-stringed Se and a small drum. The most distinguished among them were Zeng Houyi bells — the gem of ancient Chinese Art:
The Zeng Houyi Bells (big photo)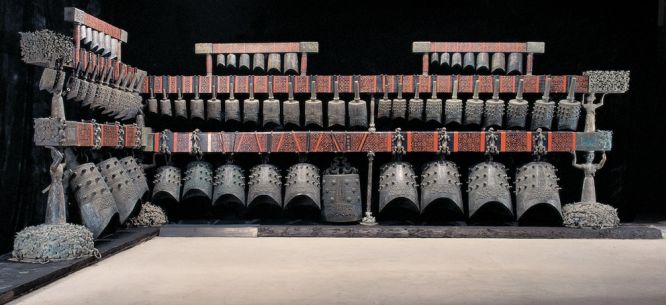 The Zeng Houyi bells are a three-tiered set which has 65 refined bronze bells, including a large Jian drum (90cm in diameter, the drum was suspended from a framework in such a way that the drum head faced the striker), one set of bells and one set of chimes. They formed the three sides of a rectangle.
The musical range of the Zeng Houyi bells, which can carry the main melody as well as the harmony, was more than five octaves, and of these three distinct groups have 12 complete notes each.
All the musical instruments excavated from the Zeng Houyi tomb show superb craftsmanship and function surprisingly well. Indeed, some could not be surpassed even today.
Bells Music list:
The Chime of Bells Music: A Chu Air

Audio clip: Adobe Flash Player (version 9 or above) is required to play this audio clip. Download the latest version here. You also need to have JavaScript enabled in your browser.
The Chime of Bells Music: Ode To The Orange
Audio clip: Adobe Flash Player (version 9 or above) is required to play this audio clip. Download the latest version here. You also need to have JavaScript enabled in your browser.

The Chime of Bells Music: Melody of Chu
Audio clip: Adobe Flash Player (version 9 or above) is required to play this audio clip. Download the latest version here. You also need to have JavaScript enabled in your browser.
The Chime of Bells Music: Clouds
Audio clip: Adobe Flash Player (version 9 or above) is required to play this audio clip. Download the latest version here. You also need to have JavaScript enabled in your browser.
The Chime of Bells Music: Mourning For Ying
Audio clip: Adobe Flash Player (version 9 or above) is required to play this audio clip. Download the latest version here. You also need to have JavaScript enabled in your browser.
The Chime of Bells Music: Oracle
Audio clip: Adobe Flash Player (version 9 or above) is required to play this audio clip. Download the latest version here. You also need to have JavaScript enabled in your browser.
The Chime of Bells Music: Heroic Air of Chu
Audio clip: Adobe Flash Player (version 9 or above) is required to play this audio clip. Download the latest version here. You also need to have JavaScript enabled in your browser.
The Chime of Bells Music (Chinese Song): The Osprey
Audio clip: Adobe Flash Player (version 9 or above) is required to play this audio clip. Download the latest version here. You also need to have JavaScript enabled in your browser.
The Chime of Bells Music (Chinese Song): The Song of The Yue People
Audio clip: Adobe Flash Player (version 9 or above) is required to play this audio clip. Download the latest version here. You also need to have JavaScript enabled in your browser.
The Chime of Bells Music (Chinese Song): Song to Righteousness
Audio clip: Adobe Flash Player (version 9 or above) is required to play this audio clip. Download the latest version here. You also need to have JavaScript enabled in your browser.
The Chime of Bells Music: Schu Palace Banquet Music
Audio clip: Adobe Flash Player (version 9 or above) is required to play this audio clip. Download the latest version here. You also need to have JavaScript enabled in your browser.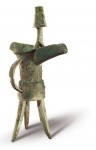 Bronze is the earliest of all alloys produced by the human race.  In China, the earliest bronze ware were produced in the late period of the primitive society, and those produced during the Shang-Zhou period, in large quantities with the production techniques rated as better than ever before, highlight the social estate system practiced at the time. Bronze ware used before the Qin-Han period fall into three categories – those used at sacrificial ceremonies held by the state and aristocratic families, those for daily use by aristocrats and those used as funerary objects. Bronze articles for practical use include weapons, musical instruments, cooking utensils, and food, wine and water containers, as well as ornamental articles on horse chariots.
Bronze weapons unearthed so far are mostly swords, axes, axe-spears and dagger-axes.  Bells in complete sets known as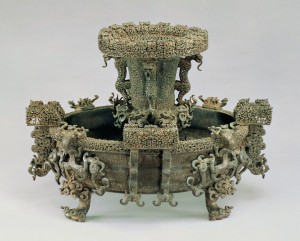 bianzhong and large bells known as bo are the most typical bronze musical instruments played at sacrificial ceremonies and on other important occasions. Tripods and quadripods with hollow legs (li), which originated from prehistory cooking utensils, were used to boil whole animal carcasses for sacrificial ceremonies and feasting. Rules based on the social estate system were strictly followed with regard to the use of bronze ware. Nine tripods and eight food containers known as gui were allowed on occasions presided over by the "Son of  of Heaven in rank may use seven tripods and six guis or five tripods and four guis. In short, the number of bronze containers decreased progressively according to the degrading ranks of the users. There were also stringent rules on the size and weight of the utensils for users of each rank. Wine sets are in greater variety than any other kind of bronze ware we have found so far – possibly because people of the Shang-Zhou period were fond of drinking wine.  The earliest bronze wine sets include jue (wine vessel with three legs and a loop handle), jia (round-mouthed wine vessel with three legs) and hu (squaremouthed wine containers). Many wine containers take the shape of birds or animals.