Address: Taiwan, Taipei City, Shilin Wai Shuangxi Zhishan Lu Er Duan, #221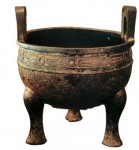 (a kind of ancient vessel)" width="83″ height="90″ />The Taipei Palace Museum is located in the northwestern part of Taipei City, facing Shuangxi Park and surrounded by verdant trees and rolling hills. The palace was constructed as a replica of the Beijing Palace Museum. It has an area of more than 10,000 square meters and is grand and imposing in character. Approximately some 620,000 historical items and works of art are stored here, in a magnificent four-storied building. The construction of the Taipei Palace Museum was begun in 1962 and completed in the summer of 1965. Some 240,000 of the items that are kept here originally belonged to the Beijing Palace Museum.
In 1949, 3,824 crates of objects were moved to Taiwan. Among these were the great treasures of 'hua-xia,' a term that also means China, but in a more comprehensive cultural sense, including Shang and Zhou bronzes, jades, works of calligraphy from Jin and Tang dynasties onward, paintings from Tang and Song dynasties onward, ceramics from famous kilns from Song and Yuan dynasties onward, bamboo items, rare books, documents from the Qing dynasty, as well as sculptures, jades, lacquer works, enamels, and so on.
Most of the items on display are shown in the main building of the museum.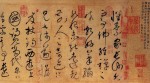 This building is divided into four levels, with the main entrance being on the second floor. The great hall of the second floor has a bronze bust of Sun Zhongshan (Sun Yatsen), made as a replica of the one in Nanjing at Sun Yatsen's tomb. All around this sculpture hang very famous paintings and works of calligraphy; in the corridor leading to Sun Yatsen are two of the most famous long scrolls in the history of Chinese art.
Several national treasures are on the must-see list for visitors. Among these is the Mao Gong ding dating from Western Zhou, unearthed during the latter years of the Qing dynasty in the Daoguang reign (1850) in the province of Shaanxi. The height of this ding is 53.8 centimeters and its diameter is 47.9 centimeters. It has three legs or feet and two upright handles or ears. Its ornamentation is very simple as is the exterior. On the inside of the Ding is an inscription of 491 characters – the longest inscription of any known Chinese bronze.
A large number of calligraphies and paintings by famous painters are exhibited in the Taipei Palace Museum. These include Li Gonglin (1049-1106, notable Song-dynasty painter), Chen Juzhong (years of birth and death unclear, a Southern-Song painter), Qiu Ying (around 1509-1551, a Ming-dynasty painter), Wang Hui(1632-1717, an early Qing-dynasty painter), Fan Kuan (around 950-1027, Song-dynasty painter), Guo Xi (1023-around 1085, Song-dynasty painter), Wang Xizhi (303-361) and so on.
The Taipei Palace Museum also contains a number of famous items of thescholar's studio. Among these the most representative is the inkstone of the Song-dynasty Su Dongpo (1037-1101), the northern Song calligrapher and literati figure, also the inkstone of Zhao Mengfu (1254-1322), the famous Yuan-dynasty calligrapher. The permanent display of the Taipei Palace Museum contains twenty thousand objects. These are rotated once every three months. Every ten years is a full cycle, so that even rare objects can be exhibited and seen by everyone.