As a part of the gathered performance activity of Chinese ethnic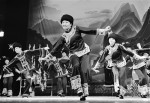 intangible cultural heritage items, the reporting performance themed with "Hunan Flavor" was conducted at the Hunan Concert Hall on the evening of March 13. It is reported that Hunan's 16 ethnic intangible cultural heritage items will be performed in the Beijing Tianqiao Theater on 17 and 18 this month.
Sponsored by the Ministry of Culture and the Ethnic and Religious Affairs Commission, this performance activity was held in Beijing on February 17 and will last until March 30. The ethnic folk artists from different provinces, cities, and autonomous regions across the country will present nine performances for the local audience. Among them, special performances will be made by Hunan, Qinghai, Sichuan and Guizhou provinces, and Tibet, Inner Mongolia and Guangxi Zhuang autonomous regions.
Nearly 200 Hunan-based actors from Xiangxi, Huaihua, Zhangjiajie, Shaoyang, and Yongzhou attended the performance, including Tian Longxin and Dai Bisheng, and Chen Shida, representative heirs of the state-level and provincial-level intangible cultural heritage respectively. The performance displays the colorful folk culture of Hunan's ethnic minorities with their dances, instrumental music, folk songs, clothing, and so on.
Translator: Lv Xuefen