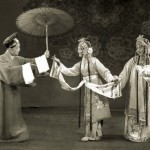 Foreign visitors to China (especially in Beijing) usually first visit the Great Wall, the Forbidden City and the Temple of Heaven, representative sites of historical interest in the city. In the evening, a tourist guide will take foreign visitors to the Chang'an Grand Theater on the Avenue of Enduring Peace. In the foyer are counters selling handicraft articles, Peking Opera masks and Peking Opera-related books, picture albums and audio-video products.
Inside the theater, the stage is of a Western style; seats in the middle and rear rows are soft sofas; but in the front rows are exquisite Chinese-style square tables and armchairs. The traditional seats lend the theater a classical flavor.
Sitting in your seat, you might take a look at the Chinese fans around you. They all have a relaxed expression and wear ordinary clothes. Many of them are speaking in each other's ears. But as soon as the gong and drum strike up, they all calm down and watch the play intently. As the plot unfolds, they seem to know who should be the next to come onto the stage and when to applaud a particular actor or actress for his or her performance.
More surprising, aside from applause, Chinese audiences show their appreciation for the performance of actors and actresses by shouting "hao!" It turns out that this means simply "well-done"or "bravo".