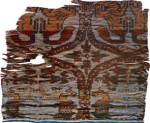 The Xinjiang Uighur Autonomous Region Museum was established in the spring of 1953 in the People's Park in Urumchi City. A new museum was later built in 1962 at a new site on Xibei Lu. The building occupies a space of 11,000 square meters and is built in a modern style enhanced by local architectural features. The central dome is thirty meters high and from its height one can view the entire city of Urumchi.
The Silk Road derived its fame from silk. The Xinjiang Uighur Autonomous Region Museum has also become famous for its rich collections of silk artifacts from many periods of history. Brocades from Eastern Han are highlighted, as well as all kinds of specialized silk-woven items from the height of the Tang. These are as lustrous and beautiful today as when they were new and display weaving techniques that were highly refined many hundreds and even thousands of years ago. These are regarded as unique treasures by textile authorities and art historians around the world. A number of the articles on display here are the earliest extant examples of certain weaving technologies in China.
The Xinjiang Autonomous Region has long been a crossroads for many different kinds of people. Their diversity of scripts and cultures is exhibited in this museum through archaeological material, including documents in some twelve different scripts with a particularly large number from the Han-dynasty finds at Turfan. The documents cover military, economic, cultural, and political affairs. Clay or terracotta sculptures are also featured in the Xinjiang Museum. Among these are single-humped Central Asian camels, fat and vigorous Yuan-dynasty horses, women figurines in all postures, impressively fierce soldiers, and so on. These were sculpted in a most natural and vigorous way and have been preserved as a result of Xinjiang's arid climate. The Xinjiang Museum has several dozen original Tang-dynasty paintings. Although these are not from the hands of famous painters, they still exhibit the vital Tang spirit. They include such subjects as women playing weiqi go or Chinese chess, children frolicking, 'eight steeds,'people dancing and so on. Other items in the collections include microliths, silver works of art, stone stelaes, coins and currency, ceramics, wooden articles. Of particular note are various foods from the Tang dynasty which, through the arid conditions, have been preserved over the passage of more than one thousand years.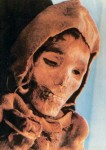 In a similar vein, certain dessicated human corpses, called mummies although they were not treated with chemicals, are kept in the Xinjiang Museum. Some of these date back to 4,000 years ago. They are the earliest known such examples in China and are important in the study not only of humankind but of ethnic composition in this region at the time. Also in the museum are an Eastern-Han couple, buried together and well preserved, and a corpse from the Tang dynasty with well preserved skin and hair.
Presently, the museum opened new exhibits called the Xinjiang History Exhibition and the Xinjiang People's Customs Exhibition. The history exhibit shows the history of Xinjiang by using material from its rich collections and highlighting material from recent archaeological discoveries. The Customs exhibition introduces the customs and cultural lifestyles of twelve different ethnic groups in Xinjiang, including the Uighur, Kazakh, Mongolian, Kirgiz, Hui, Tajik, Uzbek, Russian, Tatar, Daur, Xibo, and Manchu.
Address: Xinjiang Uighur Autonomous Region, Urumchi, Xibei Road, #132
Mote info about China's Museum, please visit here:
This museum was founded on the occasion of the tenth anniversary of the establishment of the Inner Mongolia Autonomous Region, in 1957. The building, expressive of local minority characteristics, is located at the intersection of Xinhua Dajie and Zhongshan Lu in the heart of Hohhot City, the capital of the autonomous region.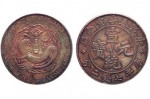 George Lim (pinyin: Lin-Qing-He) began his coin and banknote collection 30 years ago with a single note, the first 10,000 Singapore dollar bill he received. 'As soon as I made that amount, I saved it to remember it,' says Mr. Lim, a Singaporean real-estate developer, whose collection today includes more than 100 rare coins and banknotes.
Mr. Lim plans to auction 68 coins and notes from his collection in Hong Kong on Aug. 22. He hopes to cash in on growing interest in collectibles from mainland Chinese buyers who have already pushed up the price of rare stamps, wines and art in recent months.
The lots in the Hong Kong auction will focus on Southeast Asian and Chinese coins and banknotes. One item of note is a rare Yunnan Spring dollar dated 1910 with an unusual spelling mistake embossed on the coin (pinyin: Xuan-Tong-Yuan-Bao). Mr. Lim spoke with Angie Wong in Hong Kong about collecting etiquette and how to safeguard yourself from picking up a fake. The following interview has been edited.
WSJ: What do you look for when starting a collection?
Mr. Lim: Rarity and quality. Quality is basically the condition of the coin, who commissioned the coin and when it was produced. But if the coin is rare, then the wear and tear isn't as important, especially if only one or two survives.
WSJ: Do you think it is good to hoard a collection or sell it?
Mr. Lim: This is only a hobby. There are collectors who keep all the good stuff and leave nothing for others to collect. I think if you are collecting, you must release something from time to time [so other collectors can enjoy them]. I wanted to collect China silver coins, but all the top China silver coins are going into one person's hands. So I had to go for Chinese gold coins instead.
WSJ: How do you know when to sell?
Mr. Lim: Let the market decide the price. Watch the auctions to see what is selling. Also know that auctions goes up and down with the economy.
WSJ: What tips do you have for someone who wants to start collecting?
Mr. Lim: Newcomers, especially those interested in Chinese coin collecting, need a base knowledge. Read lots of books on the topic. Get to know what each coin is about, and the story behind it. Talk to dealers as well.
WSJ: What about forgeries?
Mr. Lim: It is very common for forgeries in China, especially if the coin is worth a lot. The best thing to do is safeguarding yourself by buying coins approved by a recognized third-party grading service.
Angie Wong
By Elliot Wilson
Joseph Lau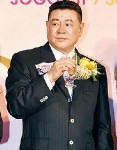 The chairman of Chinese Estates, a property developer, one of Hong Kong's richest men, Joseph Lau is nicknamed a "stock market sniper" for his talent in profiting from the trading of undervalued shares. Apart from business, the flamboyant tycoon's lavish lifestyle and relationships with different women. appear regularly in the city's tabloids.
Outside Hong Kong, however, he is perhaps best known as an avid art collector, whose tastes have ranged from Chinese antiques to modern paintings through the years.
Armed with a science degree from the University of Windsor in Canada, Lau inherited a fan-making business from his father in the 1970s, then branched out into trading.
He started collecting more than 30 years ago: one of his first reported purchases at an international auction dated back to 1990, when he paid less than $1m for an imperial seal mark from the Qianlong period of the Qing dynasty and a doucai jardinière at Christie's.
Last year, Lau bought a 7.03-carat blue diamond for $9.48m at Sotheby's Geneva. More recently, he was one of the eight bidders for "Nude, Green Leaves and Bust", the 1932 Picasso that sold at auction this month for $106.5m.
Whether he eventually took the masterpiece home remains a mystery: neither Christie's nor Chinese Estates would comment.
Stanley Ho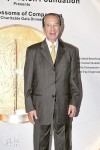 In the lobby of the Grand Lisboa stands a bust of Stanley Ho, the gaming mogul and majority owner of the Macao casino. Behind him lies a bronze horse-head sculpture he bought for a record $8.8m in 2007. The work – the most expensive Qing dynasty sculpture sold at auction – is one of the 12 heads of zodiac animals which graced a water-clock fountain in Yuanmingyuan, the imperial summer palace near Beijing, that was looted in the 19th century.
When Ho bought the sculpture through Sotheby's Hong Kong, the avid racehorse owner donated it to China. It is on temporary display in the Grand Lisboa while Ho decides which government department to give it to.
"I hope this will encourage more people to join efforts in preserving China's cultural relics and nurture patriotic feelings," Ho, 88, said at that time.
Ho seems to think that no price is too high to buy back China's history.
In 2003, he snapped up the clock's boar head and gave it to Beijing's state-backed Poly art museum, which also has the monkey, ox and tiger heads.
In 2007, Ho bought an imperial throne of the Qing dynasty for $1.8m. His other collections of Chinese works of art include a mammoth tusk carving of the Monkey King, one of the country's best-known legendary figures, and an imperial, gem-engraved clock from the Qing period that imitates the sound of birds.
Liu Yiqian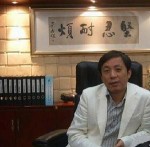 When it comes to art collectors, Shanghai businessman Liu Yiqian and his wife Wang Wei are among the most famous in China. Driven by Liu's rule of collecting – "one should buy shares that are cheap and art pieces that are expensive" – the couple spent an estimated Rmb1.3bn (£116m) last year on buying art, including "18 Arhats", a 16th-century scroll painting by Ming dynasty painter Wu Bin that was sold for Rmb169m, the highest price for any Chinese artwork in auction. It was "my most memorable purchase", according to Liu. In Hong Kong, they also set a record for Chinese furniture after paying HK$85.7m for a zitan imperial throne from the Qing dynasty through Sotheby's in October.
Liu, a high school dropout now in his 40s, started a company making bags with Rmb100 in the 1980s. As China began to open up its financial markets in the 1990s, he gave up the business and went into bonds and shares trading. That helped him become a millionaire and build the war chest to fund his newfound interest in collecting art, mainly classical paintings and antiques.
Wang got interested in art at a very young age when she realised her talents in drawing. She started collecting in the 1990s, and is fond of oil paintings and sculptures, especially "red classics" – art pieces that symbolise China's turbulent decades after 1949.
Guan Yi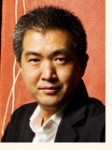 Guan Yi is China's most influential collector of contemporary art. Born to a middle-class family that runs a chemical manufacturing company in Qingdao in north-east China, Guan left the family business in 2001 to become a full-time collector. One of the first buyers of Chinese contemporary art on the mainland, he started snapping up many modern paintings, sculptures and installations before they became global phenomena.
"After I started, I realised that no Chinese was buying contemporary art and that everything was going abroad. I thought this was not right. This art of our time is important and we Chinese should buy more of it," Guan, 44, says.
Guan has now acquired about 800 such works. In spite of that, he is not happy with the soaring prices of Chinese artists. He says contemporary art has become such a commercial product that people are buying it as if it was stock.
This is, he says, especially true among Chinese collectors, who buy four out of five works now. Ten years ago, only one in five buyers was Chinese. "This is clearly a very capitalistic approach. There is no religion in China. Capitalism is god now," says Guan.
He is now seeking government approval to build a museum that would be 10 times bigger than his current private museum in Songzhuang, a popular art district in the east of Beijing.
Profiles by Justine Lau